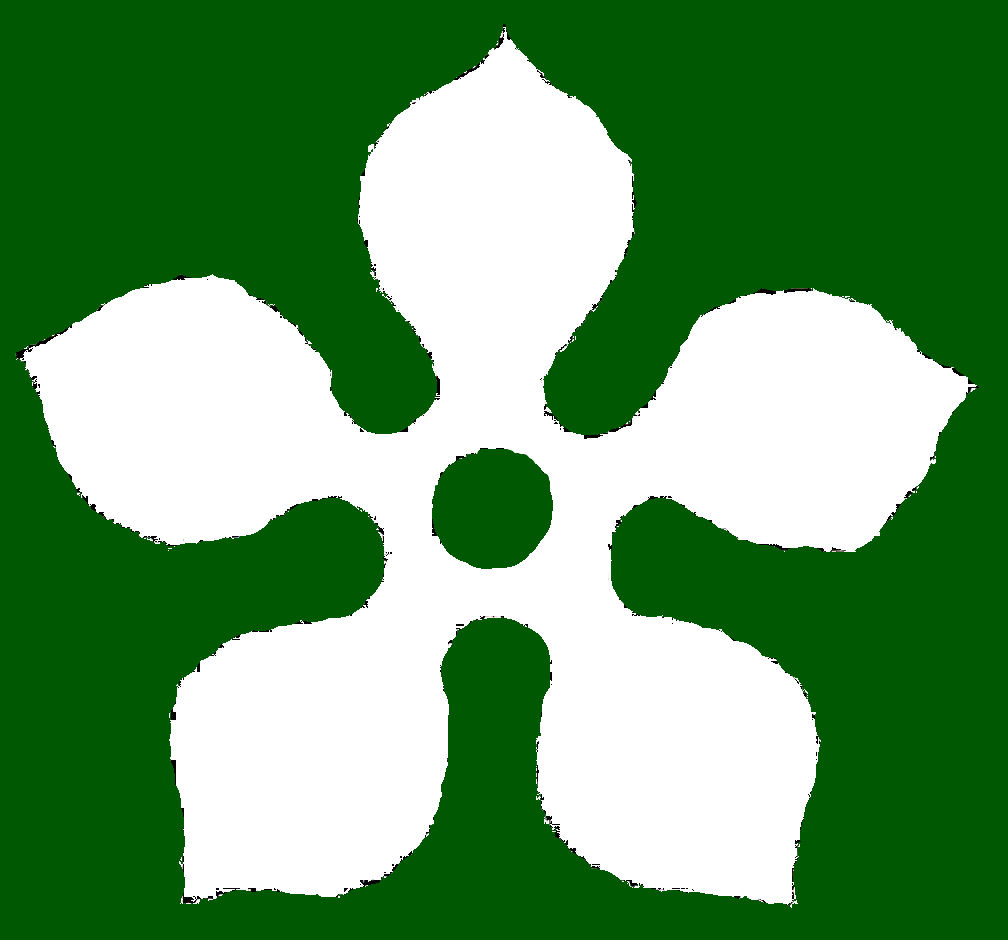 Here you will find various items of interest, scanned documents or other documents that will provide you with even more nostalgia than you might have thought possible!
There is more information if you hover over each picture with your cursor.

Please click on the underlined headings to view the item:

The Early Years
in Word format or
in PDF format
This booklet was produced some years ago and tells the story of St Peter's from the start in 1903 through to World War II. Fascinating reading if you are unaware of the School's history.

The School Song


in Word format or
in PDF format
Nick Hurry has sent the words to me - brilliant! Can anyone remember the music?
Funnily enough, my middle brother, Richard, remembers a different tune to the one I thought I knew.
Someone must be musical enough to remember one or other or even both??

The Tickler


The Tickler - yes, the actual one (brings tears to some eyes no doubt)

Sunday Times Colour Supplement CE Article 31 May 1981


This article, copied and sent to me by Stephen Arnott appeared in the Sunday Times Colour Supplement in 1981,
with the Farebrother brothers clearly very involved. Sad to see some of the candidates are no longer with us.

Koala Bear and Hall Gong (from Cate Browell)


I understand from the 1957 magazine that this gong was donated to St Peter's by HMS Eggesford.

School Cap


This is a photo of Roland King's St Peter's cap - seems a little the worse for wear but considering
it's age (1940s vintage) is in quite good nick! Had hoped that Roland might have modelled it!
Anyone got a newer one (cap, not Roland)?

Programmes


Found this and the following programme in my cupboard. Had to pop it on this page.
Don't you just love the humour incorporated into these?
Just wish I and three others weren't referred to as 'fairies'!




School Badges


Dug these out of the cupboard at last. From what I recall taken off my cap and my blazer.

Commax drawing


This appeared in Roland King's autograph album and gives credence to the claim that
the magazine cartoons were drawn by Commander Axten. Signed SEA and dated 1947.

War Memorial
Colonel H Jones VC, OBE and Alan Hacking

This memorial was given a wonderful position in the ante Chapel and staff and children
would have walked past it just about every day of their career at St Peter's.
Now it can be found in the Seaford Museum which is in the Martello Tower on the sea front.
At the bottom of the board is the entry for Colonel Herbert Jones who was at St Peter's from Easter 1949 to Summer 1953.
As anyone who remembers the Falklands War in 1982 will know, Col H Jones was postumously awarded the Victoria Cross
after being killed in action during the Battle of Goose Green. Photos of H Jones can be found on various websites.

Another name on the Memorial is that of Alan Hacking.
Charles Beresford has provided information and a scan of a booklet written about
Alan which is worthy of a read. It includes a reference to his time at St Peter's
and to R K Henderson, Headmaster. Thank you Charles.
Click here for a PDF version of this or click here for a Word version.



Donald Campbell


I don't suppose that many old St Peter's boys have their pictures on a Royal Mail stamp but when this
appeared on a package received the other day I could not help but to enter it onto these pages.
Donald Campbell was at St Peter's from 1932 to 1934. Famous for his land and water speed world
records and each time he gained another record I recall getting a half day off in celebration.
Were there any other old boys who achieved anything similar?
Obituary in the 1966 school magazine pages 8/9.
Link to a website about 'Donald Campbell


The above cuttings provided by Stuart Dowding at the 2018 Reunion.

The Fire Engine


Fire Engine bought December 1968
Is that one of the teachers on the left worrying about Health & Safety?

A blank Score Card



History Dates List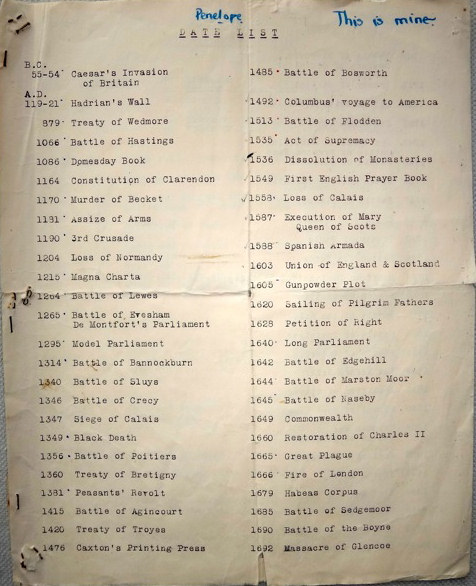 Webmaster remembers with huge trepidation having to write 4 to 5 lines on each and failing miserably!
In fact it brings him out in a cold sweat fifty odd years later!

Thanksgiving Service July 16th, 1955 Service Sheet



School Prospectus
Letter from MHF - just couldn't resist including this letter (slightly redacted) with it's letterhead and signature.



Aids to Navigation (School information for parents)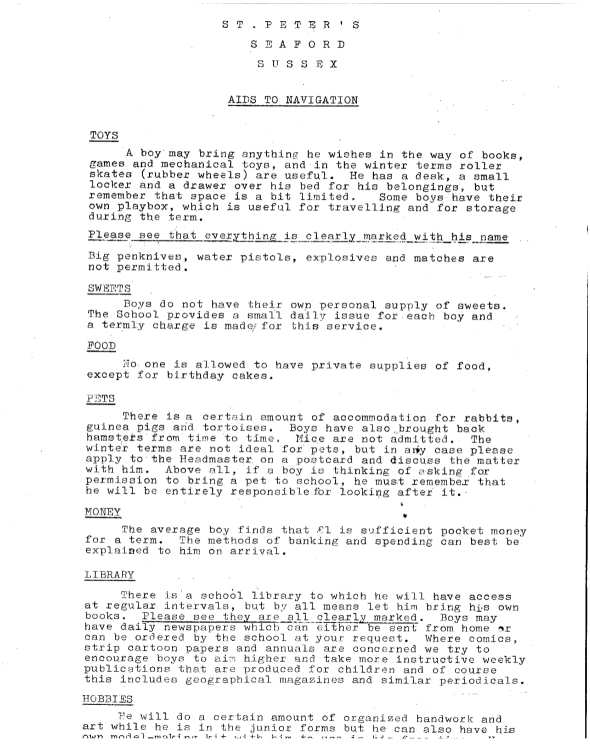 Uniform Lists



Chapel Leaflet


Can't see any mention of the chapel chairs in this leaflet which is surprising.
John Mendelssohn tells me that they were paid for by parents and cost 7/6 each!

Signed Postcards


Signatures include : Mr Steel, Mr Chappel, Mr Sharp, Mr Rodd, HJF, Mr Norbury,
Mr Rideal, Mr Baldwin, Mr King and Wing Commander and Mrs Backwell-Smith

Sports Day Programme 18 June 1938



Sports Day Programme 23 June 1979



St Peter's School Fee Invoice


Compared with current independent prep school fee rates, cheap at half the price!
Anyone got an earlier one?

Sussex County Small Bore Rifle Association
pocket badge - 1947-48


Nick Hurray's badge - awarded to members of the 1st VIII when they won their section - Division 8

First Class Shooting Certificate


See below for shooting badges and information re the PSRA.

Certificate of Merit Easter 1937
PDS Blake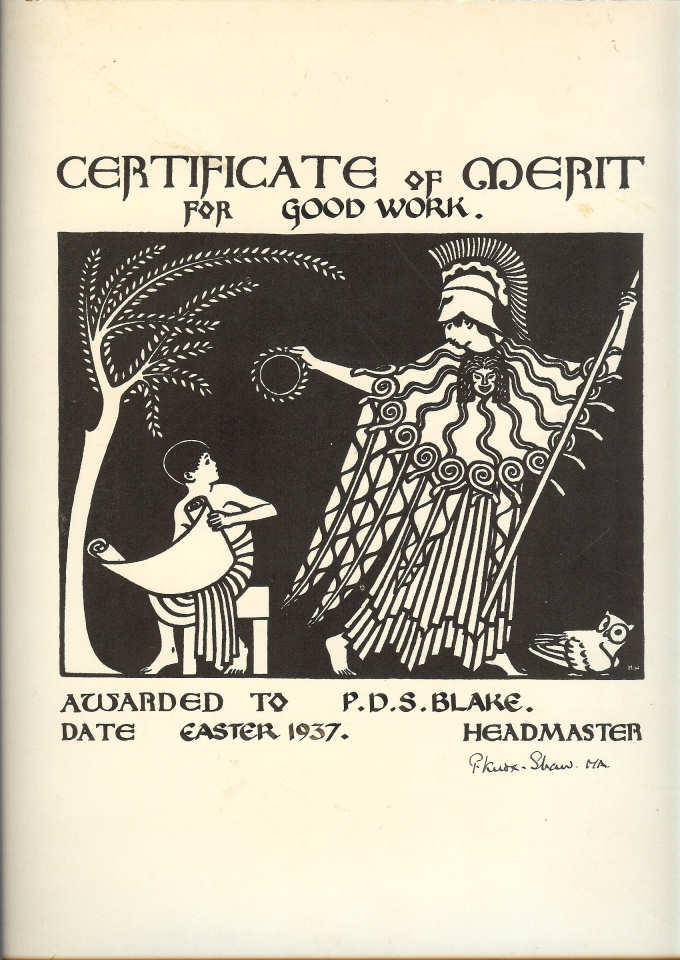 Cups from 1936-40 PDS Blake (shown individually on Team Photos pages for those decades)
Front


Back



Cups from 1960-61


Again taken out of my cupboard at last. I couldn't believe how well they polished up.
They were black with tarnish - I now have them on display at home!

Imperial Shield
The Imperial Shield Challenge trophy is pictured in many of the Shooting Team
photographs elsewhere on this website and is one trophy the school seemed to excel
at in regularly winning thanks mainly to Major Apperly's training.
We are told that St Peter's won it in 1928, 1934, 1946, 1950,
1952/53/54/55/56/57/58/59 and 60, a total of 13 times under the auspices of the N.R.A.
Here is the original shield as won in July 2014 by Durham ACF at the Inter-Services
Cadet Rifle Meeting under the auspices of the C.C.R.S.



A replica of the trophy was put up for sale on ebay in July 2014 and
the current owner has kindly allowed us to include photos on our website.



Nicholas Previte has kindly sent in photos of the silver medal he received about 1955/56.



Medals from 1930-31


Medals from 1930-31. These were emailed to me some time ago!

Medals from 1960-61



Again taken out of my cupboard at last. Just a pity they weren't engraved on the back.

Medals from the 1970's


Courtesy of Simon Pratt

Shooting, Captain and Set Badges


Harry Liddell provided a photo of these badges.
He thinks he should have left the lower two behind when he left school!
Does anyone remember who got to wear each? The silver rifle is presumably a badge tying in with the PSRA certificate above.
Actually Christopher Leathers has advised me that the Rifle badge with the star above was awarded to the winners of the Imperial Shield
and was based on the arm badge of the Territorial Army & ACF Marksman.
I am aware that there were three classes of PSRA certificate (2nd Class, 1st Class and Marksman).
I have in my possesion a red rifle badge as well as a silver one. I am uncertain of the significance of the different colours.
On checking the PSRA (Prep Schools Rifle Association) website, I see there is also a 'Mastershot'.
It is worth visiting the PSRA website to see the History and how often St Peters won awards over the years. See above also.


ANNOUNCEMENT OF CLOSURE
Daily Telegraph announcement 10 May 1982



Letter to Old Boys

Copyright © 2010 The St Peter's Old Boys Association. All rights reserved.